Training
The purpose of this one-day course is to provide participants with an introduction to the foundational concepts of the Lean-Six Sigma philosophy and process. It will help participants successfully understand the organization of a Lean-Six Sigma program. Simulations on variations in such processes will be practiced. Upon completion of this course, participants should be able to:
Describe the Lean Six Sigma "White Belt" concept
Comprehend the critical elements of the Six Sigma approach
Recognize how poor quality harms business in a service environment
Identify the new roles and responsibilities employees play in this approach
Identify those processes that need improvement
Publications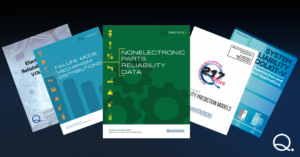 Quanterion's reliability, maintainability and quality engineering products apply the company's in-depth understanding of specific processes, including the identification of specific tasks that can be simplified and/or automated to reduce the necessary time and resources for such processes. Quanterion's collection of software tools provide the desired simplification, while also incorporating additional insights, rules of thumb and numerous other practical application tips. Explore these popular and affordable software tools.
The manufacture of microcircuits begins with the silicon or gallium arsenide wafer and, after several processing operations, results in a fully packaged electronic component. For semiconductor manufacturing, the processing operations allow the industry to design-in reliability through the proper selection of materials, processing parameters, and technologies. The student of manufacturing must therefore be taught the critical relationships between manufacturing, reliability, and quality. Learn more.
This publication discusses how the effective application of Reliability, Maintainability, Quality, Supportability and Interoperability (RMQSI) tools and processes will ensure that essential warfighting capabilities are delivered that meet system suitability requirements at the most affordable cost. Learn more.
The "System Reliability Toolkit-V" provides technical guidance in all aspects of system reliability and also discusses quality assurance. Learn more.
Article
Quality management is a broad term used to describe those activities that are beneficial in building quality products. Read the article to discover how Quanterion can help your organization implement quality programs, train your staff in the principles of quality management and more!
To learn more about quality management, visit Quanterion's associated reliability engineering term page.
Follow Quanterion Solutions Incorporated on social media to access more reliability engineering information, resources, and more.