Training
Reliability 301: RAM Modeling I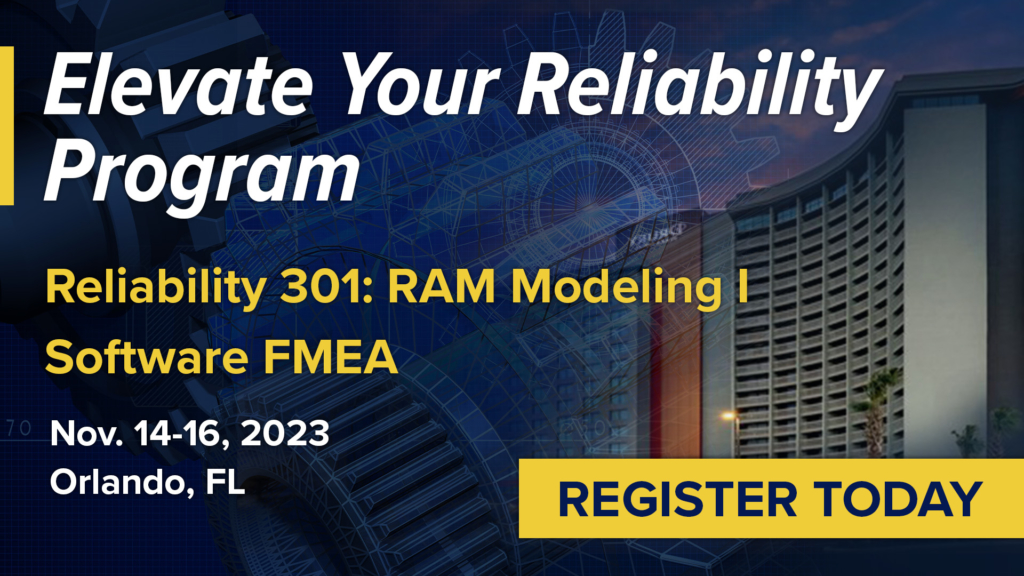 Sign up for a related course: Software Failure Modes Effects Analysis, which will be hosted Nov. 14-16, 2023 in Orlando, FL!
This course covers the steps for performing a software FMEA as well as dozens of software reliability failure modes and root causes related to the requirements, interface design, detailed design and code, vulnerabilities, corrective actions, serviceability, usability and processes.
You will learn the purpose of the FMEA, how to analyze failure modes and root causes, identify the riskiest parts of the software, and more!
Register for Software Failure Modes Effects Analysis!
FMECAs and FTAs are popular methods for determining the impact of failures on the product or system. This module focuses on these two popular approaches to system logic analysis. The discussion will begin with a discussion of the MIL-STD-1629 approach and then introduce the commercial IEC and SAE approaches to design FMECA's. The FTA section focuses on the most popular basic symbols and high level prioritization techniques. The topics include:
Terms used in Failure Mode Effect Analysis
Criticality Analysis
Fault Tree Construction
Quantitative and Qualitative Analysis
Failure Mode Data
The 2016 Edition of the Failure Mode/Mechanisms Distribution (FMD-2016) contains field failure mode and mechanism distribution data on a variety of electrical, mechanical, and electromechanical parts and assemblies. This data can be used to apportion an item's failure rate into modal elements and assist in the performance of reliability analyses and assessments such as Failure Modes, Effects and Criticality Analysis (FMECA) and Fault Tree Analysis (FTA). FMD-2016 contains over 990,000 new records, a 10 fold increase over the 98,000 records presented in its predecessor, FMD-2013.
FMECA Publications
This book offers new definitions of how failures can be characterized, and how those new definitions can be used to develop metrics that will quantify how effective a Design for Reliability (DFR) process is in (1) identifying failure modes and (2) mitigating their root failure causes.
This book is a practical step-by-step guide for reliability or software engineering practitioners. It illustrates each of the steps for performing a software FMEA and presents dozens of software failure modes and root causes. This book covers the eight possible viewpoints for conducting a SFMEA – requirements, interface design, detailed design and code, vulnerabilities, corrective actions, serviceability, usability and development processes.
This book expands the discussion of FMECA beyond the realm of the MIL-STD-1629A hardware approach. Commonly-used commercial standards (SAE J1739 and IEC 60812) are introduced. Hardware and Software FMECA (DFMEA), Process FMECA (PFMEA) and Human Systems Integration (HSI)-based PFMECA methods are discussed, with particular attention given to the process, required information, expected results and analysis alternatives. The concept of an Integrated FMECA (I-FMECA) is also introduced.
There are very few reliability design analysis tools that are as widely practiced as Failure Modes and Effects Analysis (FMEA) or its derivative, the Failure Modes, Effects and Criticality Analysis (FMECA). The FMEA/FMECA is a tool by which a design is analyzed to identify all credible potential ways that the building blocks of a design can fail, and the impact that these failures can have on the product or system. The process begins by identifying the building blocks (for example, individual components or functional blocks), then enumerating the functional requirements for each block, and finally listing the effect(s) of failure on both the local and higher-level assemblies until the impacts on the final product or system are projected. For this reason, the analysis is referred to as a "bottom-up" approach.
The intent of this book is to provide guidance on modeling techniques that can be used to quantify the reliability of a product or system. In this context, reliability modeling is the process of constructing a mathematical model that is used to estimate the reliability characteristics of a product.
The "Reliability Toolkit: Commercial Practices Edition" helps both the commercial and military sectors deal with developing and manufacturing reliable products in today's competitive markets. Over 80 topics, representing every aspect of a product's reliability over its life cycle, have been well received by thousands of Toolkit owners to date.
This 2011 release features over 2 dozen new or improved tools over QuART PRO. QuART ER updates more than 10 tools and adds more than 15 new tools to the tool set available in QuART PRO, including the "Ask a Quanterion Expert" function that allows users to direct their reliability questions to an ASQ certified reliability expert at Quanterion.
The System Reliability Toolkit provides technical guidance in all aspects of system reliability, addressing both software reliability and human factors to better reflect the changing requirements of defense community.
Stay up-to-date! Sign up for reliability engineering news and resources!
Follow Quanterion Solutions Incorporated on social media to access more reliability engineering information, resources, and more.