Data Privacy Week Resources
Data Privacy Week is an expanded effort from the annual Data Privacy Day that generates awareness about the importance of privacy, highlights easy ways to protect personal information and reminds organizations that respecting privacy is good for business.
This year, Quanterion Solutions is encouraging individuals to learn more about how to manage and protect their valuable online data. Businesses are encouraged to respect customer data and learn about the responsibility they hold for keeping individuals' personal information safe from unauthorized access and ensuring fair, relevant and legitimate data collection and processing. See below for resources.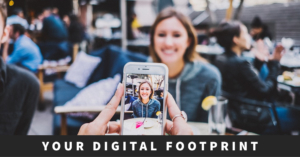 The actions you take online contribute to your digital footprint and may have real-world consequences. Your digital footprint could damage your reputation, may be shared by organizations, and possibly could be obtained by hackers and identity thieves. Learn what a digital footprint is and how you can limit it in this article by Quanterion Solutions.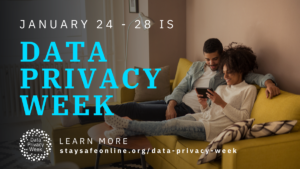 Data privacy prioritizes individuals' rights, as well as how and why data is collected, processed, shared, stored, and deleted per regional or industry regulations. Learn more about data privacy, its importance, and common data privacy issues for users from this infographic by Terranova Security.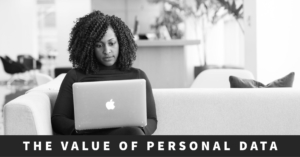 Mining personal data is a gold rush for many companies. But what does it mean for individuals? Read more.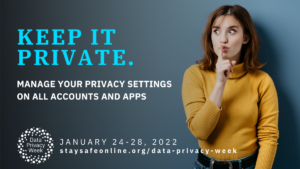 Take a few minutes each day this week to check the privacy and security settings on your accounts and devices. Check out the National Cybersecurity Alliance href="https://staysafeonline.org/resources/manage-your-privacy-settings/" target="_blank" rel="noopener">Manage Your Privacy Settings library to get started.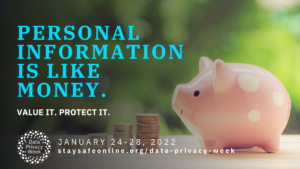 Learn what personal information is and how to protect it with these seven quick tips from Terranova Security. Start now with this quick infographic by Terranova Security.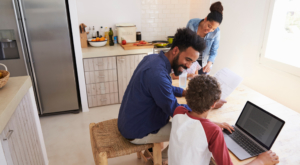 Digitally-connected families must think about safety and security both online and offline in today's world. Every child is taught basic safety and security, like not talking to strangers and looking both ways before crossing the street. Teaching young people easy-to-learn life lessons for online safety and privacy begins with parents leading the way. The National Cybersecurity Alliance explains how to teach your children about cybersecurity threats, owning their online presence, and more in this tip sheet.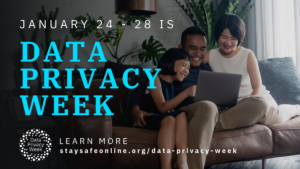 Our lives and the digital world become more and more intertwined everyday from social media to online shopping to everything in-between. And while the digital world has afforded us a whole new level of convenience and access to information, it is imperative that consumers follow best practices for protecting their personal data and ensuring it is being used the right way. Read this article by the National Cybersecurity Alliance to understand the privacy/convenience tradeoff, learn how to manage your privacy, protect your data, and more.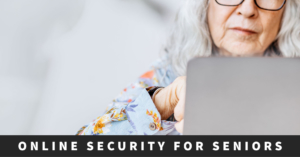 Did you know older adults are five times more vulnerable to tech support scams than other age groups? Tech support scams use scare tactics to persuade users to purchase an expensive "solution" to a nonexistent problem with a computer.
This Data Privacy Day, educate an older person in avoiding online scams with these best practices from Quanterion Solutions.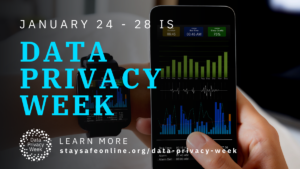 Last October, NortonLifeLock's global research team, Norton Labs, published its third quarterly Consumer Cyber Safety Pulse Report, detailing the top consumer cybersecurity insights and takeaways from July 1 to Sept. 30, 2021. Analyzing data from NortonLifeLock's threat telemetry, which blocks more than 9 million threats on average every day, the report provides a quarterly look at the top privacy, security and identity threats impacting consumers. View the findings from NortonLifeLock's Consumer Cyber Safety Pulse Report.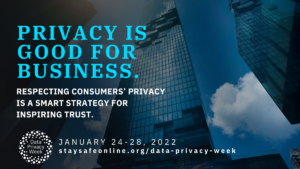 According to the Pew Research Center, 79% of U.S. adults report being concerned about the way their data is being used by companies. Respecting consumers' privacy is a smart strategy for inspiring trust and enhancing reputation and growth in your business. Read on to learn from the National Cybersecurity Alliance how you can put privacy first in your organization.

Phishing is the most common cybercrime of 2020, according to the FBI, placing organizations and individuals under an increased threat of stolen or compromised data, assets, identities and systems.
Although the threat landscape has worsened, the fact that businesses remain a target for scammers has not changed. Help your organization protect itself against phishing attacks with these tips. Read more.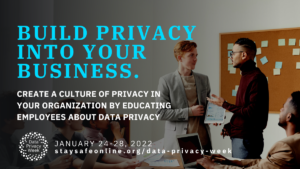 Do you want a privacy aware organization? This easy-to-scan infographic by the host of Data Privacy Week, the National Cybersecurity Alliance, can quickly show you how to help your employees understand data privacy.
Follow Quanterion on social media for Data Privacy Week resources, tips, and more.