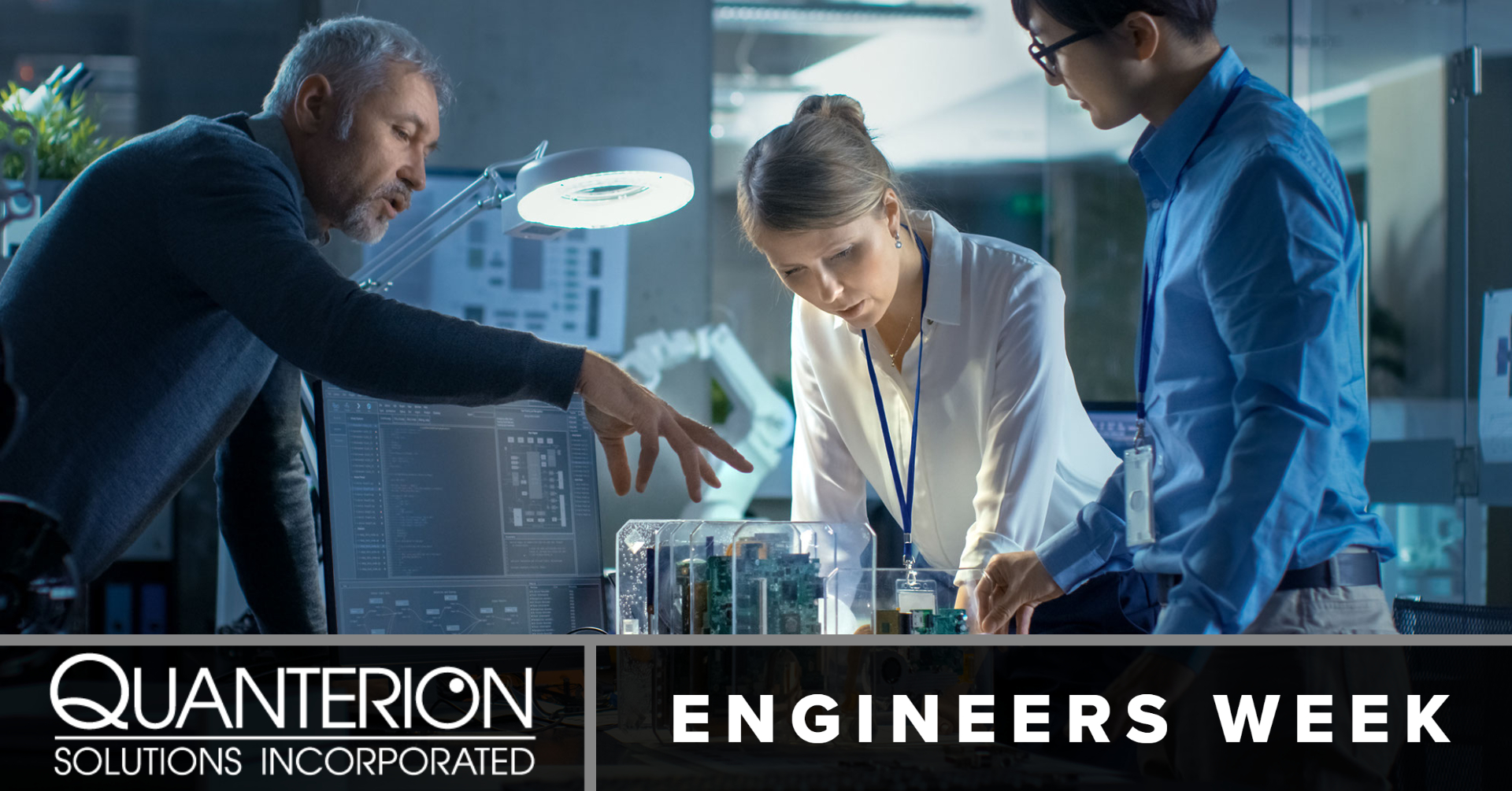 Resources and Discounts for Engineers Week
Engineers Week 2022 is Feb. 20 to 26. This year's theme — Reimagining the Possible — recognizes how engineers innovate, design and create new possibilities to meet the needs of society.
Engineers work together to develop new technologies, products and opportunities that change how we live. This Engineers Week, take a moment to recognize the work of engineers and engage students in engineering.
See below to discover reliability engineering training opportunities, discounts on reliability engineering publications and Quanterion's most popular reliability engineering resources.
Training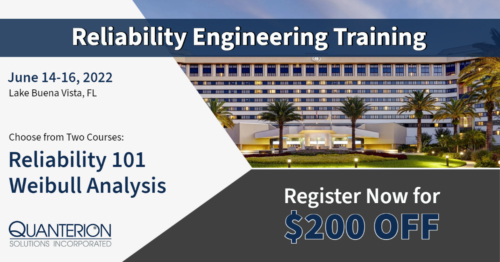 Quanterion Solutions is offering reliability engineering open training on June 14 through 16, 2022. The hands-on training will be hosted in Lake Buena Vista, FL. Attendees can choose between two courses –  Reliability 101 and Weibull Analysis.
Register before March 16, 2022 to receive $200 off the course price.
Learn more about the reliability engineering training.
Reliability Engineering Publication Discounts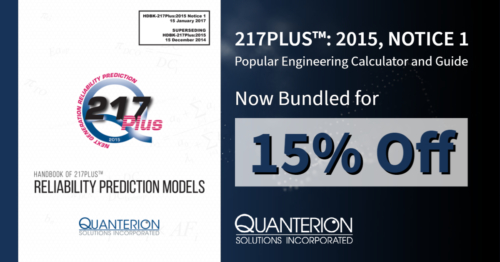 Receive 15% off a bundle of two of Quanterion's most popular products, the 217Plus™: 2015, Notice 1 Spreadsheet Calculator and the Handbook-217Plus™: 2015, Notice 1.
Combined, these products minimize the time and cost of generating customized and relevant data to fit into practically any overall quality and reliability program.
This discount ends March 7, 2022. Buy the 217Plus calculator and handbook at a 15% discount today!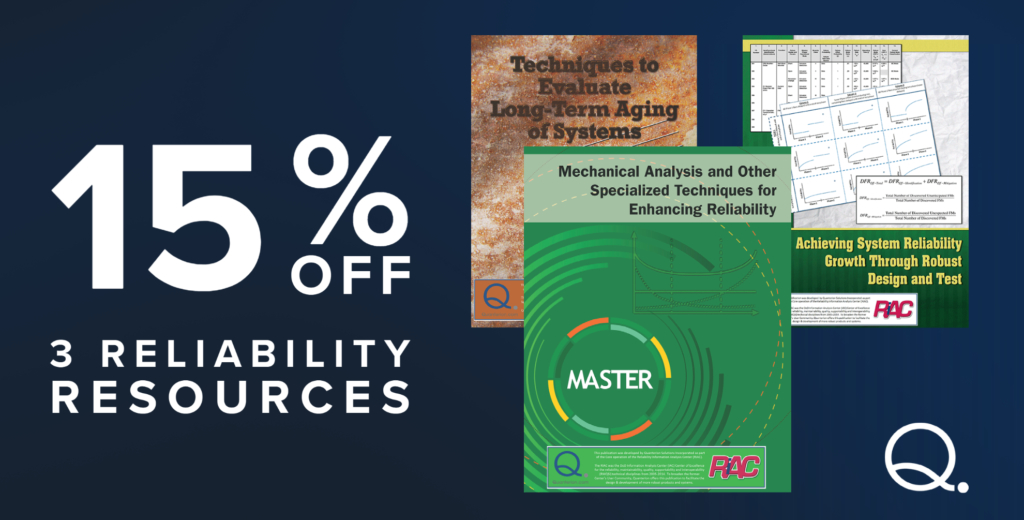 Get three reliability engineering handbooks for $238! You'll receive Achieving System Reliability Growth Through Robust Design and Test, Techniques to Evaluate Long-Term Aging of Systems (LAST), and Mechanical Analysis and Other Specialized Techniques for Enhancing Reliability (MASTER).
These resources will show you how to perform mechanical analyses; design your products with an understanding of long-term aging effects on parts, and equipment, and more.
Buy all three reliability publications for just $238!
Reliability Engineering Resources
Quanterion's Most Popular Reliability, Maintainability and Quality Products

Quanterion's reliability, maintainability and quality engineering products apply the company's in-depth understanding of specific processes, including the identification of specific tasks that can be simplified and/or automated to reduce the necessary time and resources for such processes. Quanterion's collection of software tools provide the desired simplification, while also incorporating additional insights, rules of thumb and numerous other practical application tips.
Explore these popular and affordable software tools that were developed to improve the productivity of your organization.
The 2016 Edition of the Nonelectronic Parts Reliability Data publication (NPRD-2016) presents field failure rate data on a wide variety of electrical assemblies and electromechanical/mechanical parts and assemblies. Compared to its predecessor NPRD-2011 publication, NPRD-2016 adds 138,000 new parts and over 370 billion part hours, representing approximately a 400% increase in content. The expanded part types and data in NPRD-2016 cover ground, airborne and naval environments.
Learn more about NPRD-2016.
The Electronic Parts Reliability Data (EPRD) publication contains field failure rate data for commercial and military electronic components for use in reliability analyses. Component types include integrated circuits, discrete semiconductors (diodes, transistors, optoelectronic devices), resistors, capacitors, and inductors/transformers.
Learn more about EPRD-2014.
This databook contains field failure mode and mechanism distribution data on a variety of electrical, mechanical, and electromechanical parts and assemblies. This data can be used to assist in the performance of reliability analyses and assessments such as Failure Modes, Effects and Criticality Analysis (FMECA) and Fault Tree Analysis (FTA).
Learn more about FMD-2016.

The Reliability Online Automated Databook System (ROADS) is a subscription that provides customized access to all the Quanterion Databooks: Nonelectronic Parts Reliability Data (NPRD), Electronic Parts Reliability Data (EPRD) and/or Failure Modes / Mechanisms Distribution (FMD).
Learn more about ROADS.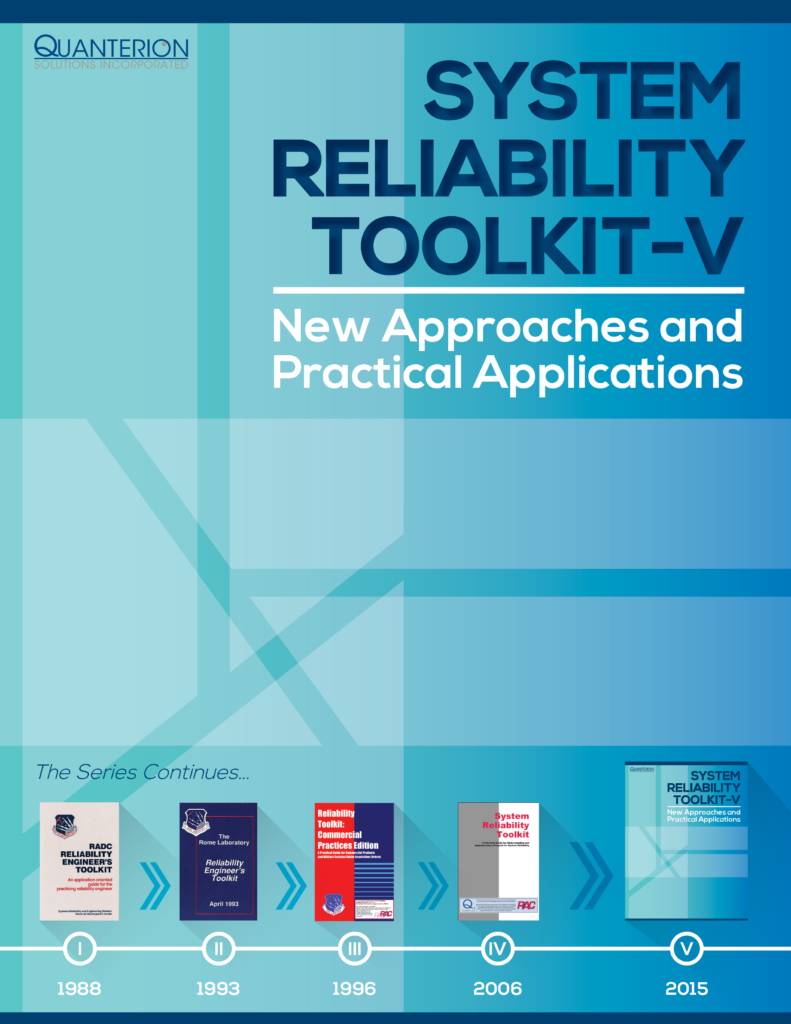 This fifth toolkit in the popular series developed by Quanterion reflects the updated focus in RMQSI. Several of the same Quanterion staff members have been involved in all five titles in the series. Over 30 new topics have been added, and several others updated, with a minimum removal of topics from the "System Reliability Toolkit." In addition, Appendices have been added stressing the practical application of the document's practices throughout a program's life.
Learn more about the System Reliability Toolkit-V.
Quanterion Solutions developed Notice 1 to the popular 217Plus™ Handbook of Reliability Prediction Models' to supersede the 2015 edition developed in 2014. Available exclusively through Quanterion, 217Plus™:2015, Notice 1 replaces the original software reliability prediction model with the Neufelder Model for software reliability prediction contained in IEEE Standard 1633-2016 "IEEE Recommended Practice on Software Reliability." Now offered with the 217Plus™: 2015, Notice 1 Spreadsheet Calculator for 15% off!
Learn more about the HDBK-217Plus™: 2015, Notice 1.
Quanterion's 217Plus™:2015, Notice 1 Reliability Prediction Calculator has been developed to facilitate the failure rate calculation of up to 10 hardware assemblies, and 15  software assemblies, according to the component and system reliability models defined by Quanterion's 217Plus™:2015, Notice 1 methodology. Now offered with the HDBK-217Plus™: 2015, Notice 1 for 15% off!
Learn more about the 217Plus™: 2015, Notice 1 Spreadsheet Calculator.
Engineers Week is hosted by DiscoverE, which also has free resources to inspire future innovators, such as hands-on engineering activities and lesson plans, information about engineering education, and pathways to a technical careers.
View Quanterion's complete catalog of reliability engineering publications, tools, and training opportunities. 
Find Quanterion on social media to access engineering information, resources, and more.