Engineering Publications and Training on Sale!
See below to explore sales for some of Quanterion's most popular products.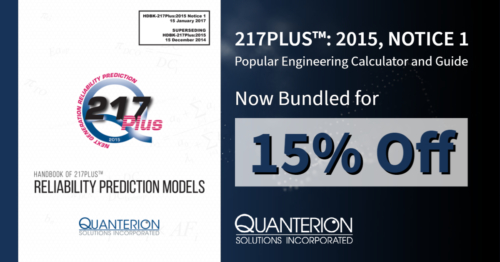 Receive 15% off a bundle of two of Quanterion's most popular products, the 217Plus™: 2015, Notice 1 Spreadsheet Calculator and the Handbook-217Plus™: 2015, Notice 1.
Combined, these products minimize the time and cost of generating customized and relevant data to fit into practically any overall quality and reliability program.
Buy the 217Plus calculator and handbook at a 15% off!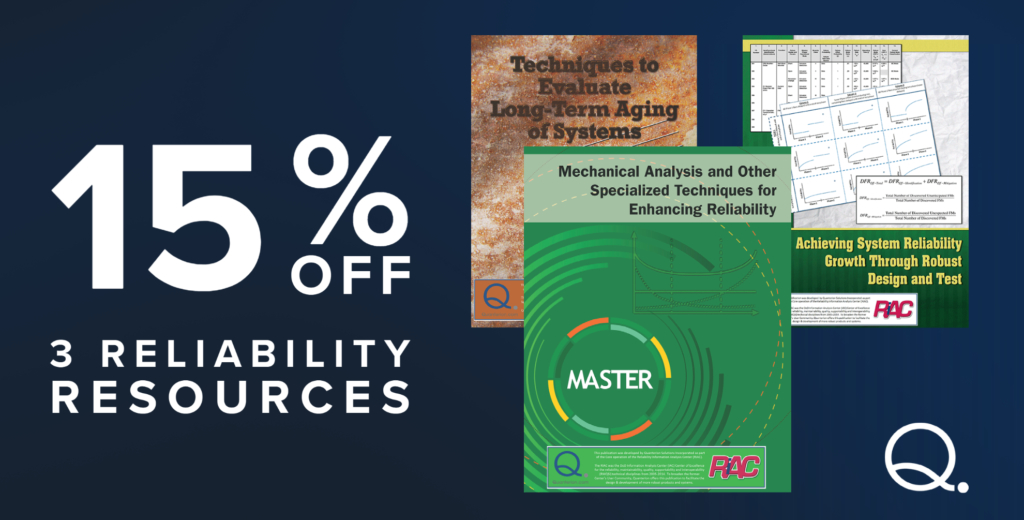 Get three reliability engineering handbooks for $238! You'll receive Achieving System Reliability Growth Through Robust Design and Test, Techniques to Evaluate Long-Term Aging of Systems (LAST), and Mechanical Analysis and Other Specialized Techniques for Enhancing Reliability (MASTER).
These resources will show you how to perform mechanical analyses; design your products with an understanding of long-term aging effects on parts, and equipment, and more.
Buy all three reliability publications for just $238!

Get a group discount for Summer 2022 Reliability Engineering Training!
Quanterion Solutions is offering reliability engineering open training on Tuesday, June 14 through Thursday, June 16, 2022. The hands-on training will be hosted in Lake Buena Vista, FL.
Two course options are offered – Reliability 101 for those new to the field and Weibull Analysis for people with some background knowledge in reliability engineering.
Course Location
DoubleTree Suites by Hilton  Orlando – Disney Springs
2305 Hotel Plaza Blvd.
Lake Buena Vista, FL 32830
Group Discount
Groups of three to four receive a 10% discount and groups of five or more receive a 20% discount.
Course Registration Deadline
June 1, 2022. Hurry, register for the engineering training today!
Follow Quanterion on social media to access engineering news, resources, and more.