Explore. Experience. Share – Cybersecurity Career Awareness Week: Cybersecurity Awareness Month Week of Oct. 18 (Week Three)
Week Three of Cybersecurity Awareness Month will highlight the Cybersecurity Career Awareness Week led by National Initiative for Cybersecurity Education (NICE). This is a week-long campaign that inspires and promotes the exploration of cybersecurity careers. Whether it's students, veterans, or those seeking a career change, the dynamic field of cybersecurity is rapidly growing and has something for everyone.
Learn more about Cybersecurity Career Awareness week.
Cybersecurity Career Awareness Week Resources
Resources by Quanterion Solutions Incorporated

Webinar – Your Pathway to a Successful Cybersecurity Career
Note: This webinar has ended. A live video will be posted soon.
Interested in entering the growing cybersecurity workforce? Prepare for success with cybersecurity experts who will discuss how learning about cybersecurity can enhance your current job, why you should consider a future in cybersecurity, how to prepare for a cyber career and what to expect on the job.
You will have opportunities to ask cybersecurity career questions from the speakers.
If you are a cybersecurity or related student, intern, instructor, professional, job changer, or are simply interested in exploring a cybersecurity career pathway or learning how cybersecurity relates to your job, this webinar is for you. Quanterion Solutions will also provide you access to cybersecurity resources.
Quanterion Solutions interviewed Cybersecurity Faculty Instructor James Rice (Mohawk Valley Community College) to explore today's challenges and opportunities in cybersecurity education. Read the interview.
Resources by the National Cyber Security Alliance
Cybersecurity is one of the hottest sectors today, with new threats and challenges emerging each day. And with that, there is a huge push being undertaken by both business and education sectors to attract individuals toward a degree and career in cyber. Interested in joining this exciting new workforce? Read more.
#CyberCareerChat Twitter Chat
@StaySafeOnline @CISAgov and @PaloAltoNtwks are coming together to host a Twitter chat. This week, we're celebrating Cybersecurity Career Awareness Week, a campaign led by @NISTcyber that inspires and promotes the exploration of cybersecurity careers.
Resources by the Cybersecurity and Infrastructure Security Agency (CISA)
Cyber Career Profiles


Career awareness is an important piece in solving the cyber workforce shortage. Explore careers from pen testing to cybersecurity forensics and learn what common job duties are, expected salary, job growth, and what degrees and certifications will help you get there. View the profiles.
Cybersecurity Workforce Training Guide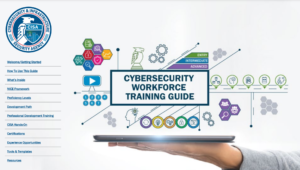 The Cybersecurity Workforce Training Guide is for current and future federal, state, local, tribal, and territorial staff looking to expand their cybersecurity skills and career options. This guide helps professionals develop a training plan based on their current skill level and desired career opportunities. Read the guide. 
Follow Quanterion on social media to access Cybersecurity Awareness Month information, resources, and more all month long.