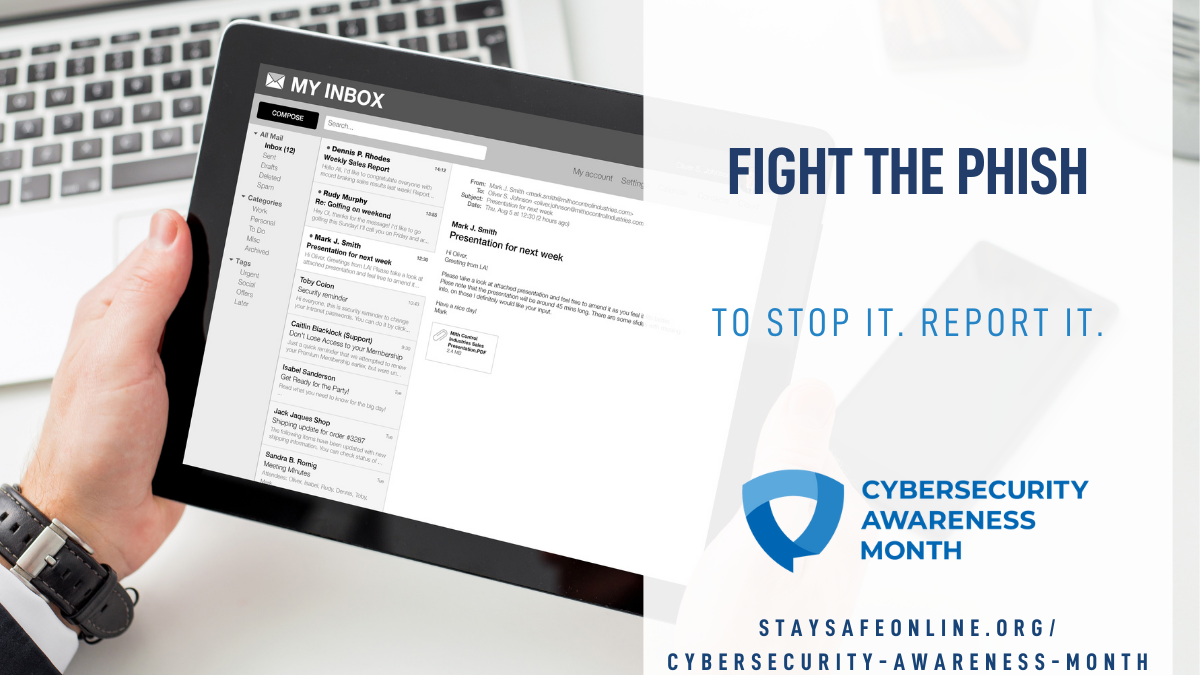 Fight the Phish: Cybersecurity Awareness Month Week of Oct. 11 (Week Two)
Phishing attacks and scams have thrived since the COVID pandemic began in 2020 and today, phishing attacks account for more than 80 percent of reported security incidents.  Week Two of Cybersecurity Awareness Month 2021 will stress the importance of being wary of emails, text messages or chat boxes that come from a stranger or someone you were not expecting. Think before you click on any suspicious emails, links or attachments and make sure to report any suspicious emails if you can!
Cybersecurity Resources by Quanterion Solutions Incorporated

Phishing is the most common cybercrime of 2020, according to the FBI, placing organizations and individuals under an increased threat of stolen or compromised data, assets, identities and systems.
Although the threat landscape has worsened, the fact that businesses remain a target for scammers has not changed. Help your organization protect itself against phishing attacks with these tips. Read more.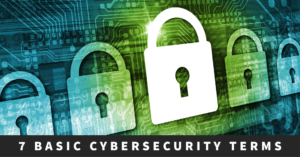 The Cybersecurity Awareness Month of 2021 marks a new era in information technology. It's an era in which your role in protecting your data and privacy is vastly different than it was before the COVID-19 pandemic. Quanterion Solutions fully supports more involvement by you – the everyday Internet user – and has outlined seven basic terms to help you protect your personal online security.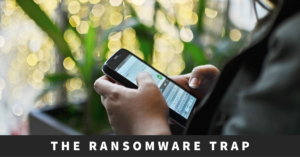 Ransomware attacks crashed down on schools, hospitals and government agencies in torrents last year, taking advantage of the entities providing education, healthcare and assistance to individuals during the COVID-19 pandemic.
Even worse, the ransomware threat is escalating by leaps and bounds. This menacing type of malware attacks a new victim every 14 seconds. Learn what ransomware is and how to protect against it.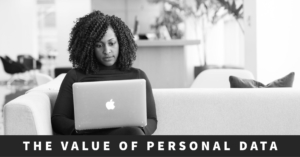 Mining personal data is a gold rush for many companies. But what does it mean for individuals? Read more.
Cybersecurity Resources by the National Cyber Security Alliance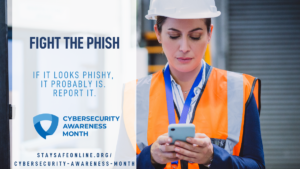 Despite often being overlooked in terms of hype, phishing has been a mainstay in the cybersecurity threat landscape for decades. In fact, 43% of cyberattacks in 2020 featured phishing or pre-texting, while 74% of U.S. organizations experienced a successful phishing attack last year alone. That means that phishing is one of the most dangerous "action varieties" to an organization's cybersecurity health.  Read more.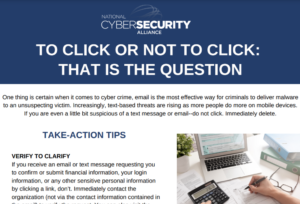 Email is an effective way for criminals to send malware or scams to an unsuspecting victim and text-based threats are rising as more people do more on mobile devices. If you are even a little bit suspicious of a text message or email–do not click. Report it to your IT department or email provider.
Cybersecurity Resources by the Cybersecurity and Infrastructure Security Agency (CISA)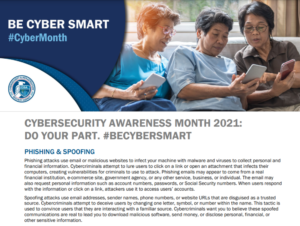 Phishing attacks use email or malicious websites to infect your machine with malware and viruses to collect personal and financial information. Cybercriminals attempt to lure users to click on a link or open an attachment that infects their computers, creating vulnerabilities for criminals to use to attack. Read more.

Today's technology allows us to connect around the world, to bank and shop online, and to control our televisions, homes, and cars from our smartphones. With this added convenience comes an increased risk of identity theft and Internet scams. #BeCyberSmart on the Internet—at home, at school, at work, on mobile devices, and on the go. Read more.
Follow Quanterion on social media for cybersecurity resources, tips, and more.