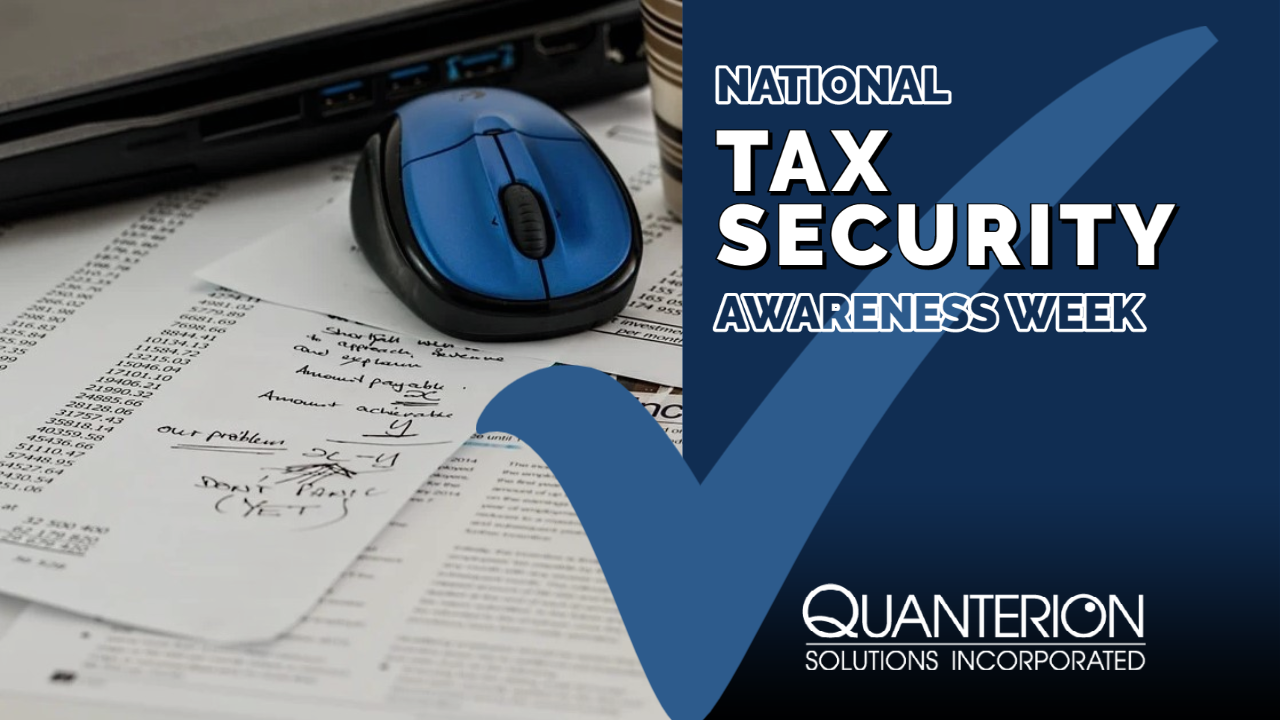 Tax season is just around the corner, and the IRS says this year your financial data is at a higher risk with more people shopping online and working from home.
"As the IRS and our partners have strengthened our security standards, identity thieves have looked for new ways to find sources of information, and businesses need to stay alert," said IRS Commissioner Charles Rettig. "Businesses, just like individuals, can be victims of identity theft. Thieves may steal enough information to file a business tax return for refund or use other scams using the company's identity."
Start now to secure your personal and financial data – before your information is compromised. See below for resources to help you prepare for a secure tax season.

The IRS has joined with representatives of the software industry, tax preparation firms, payroll and tax financial product processors and state tax administrators to combat identity theft refund fraud to protect the nation's taxpayers.
The Security Summit PDF consists of IRS, state tax agencies and the tax community, including tax preparation firms, software developers, payroll and tax financial product processors, tax professional organizations and financial institutions.
Check out additional e-posters, videos and more information. 
The IRS, state tax agencies and the nation's tax industry – working together as the Security Summit – mark the start of the 5th annual National Tax Security Awareness Week with tips on basic safeguards everyone should take.
The special week includes special informational graphics and social media efforts on platforms including Twitter and Instagram.
Read the full news release and watch a video titled, "New Security Measures Help Protect Against Tax-Related Identity Theft."
The Internal Revenue Service, state tax agencies and the tax industry today marked the second day of National Tax Security Awareness Week by announcing an improved feature that will be available on all 2021 online tax preparation products.
Designed to protect both taxpayers and tax professionals, multi-factor authentication means the returning user must enter two pieces of data to securely access an account or application. For example, taxpayers must enter their credentials (username and password) plus a numerical code sent as a text to their mobile phone.
As part of the Security Summit effort, the Internal Revenue Service announced today that starting in January the Identity Protection PIN Opt-In Program will be expanded to all taxpayers who can properly verify their identities.
The Summit partners, including state tax agencies, the nation's tax industry and the IRS, marked the third day of the National Tax Security Awareness Week by urging taxpayers who want the proactive protection against identity theft to opt into the Identity Protection PIN program in 2021.
The IP PIN is a six-digit number assigned to eligible taxpayers to help prevent the misuse of their Social Security number on fraudulent federal income tax returns. An IP PIN helps the IRS verify a taxpayer's identity and accept their electronic or paper tax return. The online Get An IP PIN tool at IRS.gov/ippin immediately displays the taxpayer's IP PIN.
The Internal Revenue Service, state tax agencies and the tax industry urged businesses to be on guard as thieves try to use their stolen names and data to file fraudulent tax returns.
The partners, operating cooperatively as the Security Summit to fight identity theft, marked the fourth day of National Tax Security Awareness Week with a warning to businesses to enact the strongest measures possible to protect their data and systems. The IRS also is planning additional steps to help businesses combat cybercriminals trying to steal their data.
More than 70% of cyberattacks are aimed at businesses with 100 or fewer employees. Thieves may be targeting credit card information, the business identity information or employee identity information.
Check out Quanterion Solutions on social media!