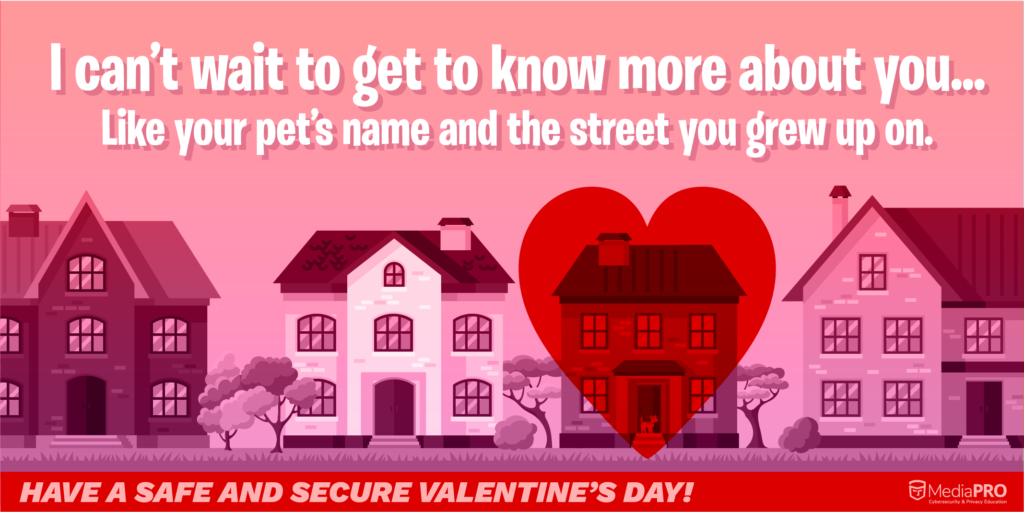 Romance Scams: Don't Click and Tell
Romance scams are growing and are expected to be prevalent this Valentine's Day.
Approximately fifty percent of Americans agree that dating websites are a good way to meet people. But as more people use dating websites, scammers see an opportunity.
Romance scams drained the bank accounts of trusting singles by more than $201 million in 2019, and that's just the scams that were reported.
Since 2015, romance scams have nearly tripled, according to the Federal Trade Commission (FTC).
Don't become a statistic this Valentine's Day. If you are dating online:
Always use protection
Reputable dating websites work hard to keep their services safe, but sometimes scammers slip by. But you don't need to be a detective to find out if that person chatting you up is really a criminal. Here are some tips to keep your data, your money and your heart, secure:
Check your online profile
Before you ever start dating online, you should get your own online presence in order. Scammers will learn as much as possible about your interests, background, and life story. The more you share, the more your information might be used to gain your trust.
Do some research
If you find someone on a dating website that catches your eye, search for them on the internet. Maybe they're on LinkedIn or Facebook. See if their story matches up, and especially if their photos are real. Scammers sometimes use pictures of attractive, lesser-known actors or models to catch your eye. Some search engines can let you do a "reverse search" of images that can help uncover a fake.
Message in the app
Dating services usually give you the option to send secure messages via their platform. Using it keeps your personal information safe and helps track down a scammer if you fall prey to fraud. Never give out personal information like your email or phone number until after you've met with the person and know they're safe.
Watch for the warning signs
Criminals are creative, but most romance scams have some things in common: distance. Many scammers will tell you that they want to meet in person, but then always comes up with an excuse why they can't. They might pose as military personnel, or a professional who is "working overseas," and can't meet in person. If you haven't met the person after a month or two, you should be extremely skeptical.
When money comes up
Eventually, scammers will make a play on your bank account. This will be disguised as something meaningful and connected to your relationship. A loan to start a business (that they're going to open with you), plane tickets (so they can come visit you), medical bills (to help your future stepchild), an investment opportunity (that they'll make in your name). There's no shortage of lies … but your response should be the same. Never give money to someone you haven't met in person.
Don't get isolated
Scammers will try to isolate you from family and friends, making themselves your entire world. Don't let that happen. Make sure you keep trustworthy people in your life who have your back. Share that suspicious message or unusual request with them, and work together to stop a scam before it ends in heartbreak.
You deserve better than a scammer
There will always be fraudsters and crooks among the true-hearted seekers of love and a meaningful relationship. No one's immune to being manipulated, but we can all stay safe by showing skepticism.
Lastly, if you are a victim of a romance scam, CISA recommends reporting it to the online dating site, the Federal Trade Commission, and the Federal Bureau of Investigation's Internet Crime Complaint Center.
Learn more
Follow Quanterion on social media to access information security resources, tips, and more.