Navigating the increasingly complex cybersecurity domain can be challenging even for experienced Information Technology (IT) professionals. Quanterion is here to help! Our team of highly-qualified cybersecurity experts can assist with a variety of activities, from identifying and managing your level of exposure to official cybersecurity compliance solutions. The services outlined below reflect our approach to map, mitigate and assess your IT infrastructure.
Attack Surface Mapping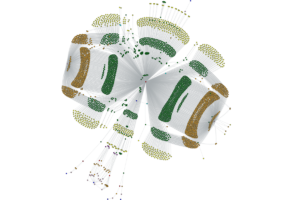 You have to know what you have in order to protect it! While seemingly obvious, many organizations fail to maintain an up-to-date asset inventory, making it difficult (if not impossible) to properly maintain assets and infrastructure. This also leaves organizations susceptible to a number of exploits; including known vulnerabilities. Quanterion assesses organizations through the eyes of an attacker to identify company assets that can be reached from any internet connected device, and therefore represents a potential target. Identifying your assets is a critical first step, and an important component of continuous monitoring.
Attack Surface Management/Reduction
After identifying the assets that are externally visible, its the time to determine which are intentionally vs. unintentionally exposed. These activities effectively reduce the organization's attack surface, and more importantly reduce the targets that the organization presents to attackers. Quanterion's cyber experts provide recommendations and a get well plan/road map to achieve these objectives.
Vulnerability Assessments / Penetration Testing / Red Team Engagements
Quanterion can go a step further and determine how one might exploit an organization's externally discoverable assets. These red team activities attempt to penetrate a network by deploying both manual penetration testing and vulnerability scanning tools against exposed assets. Most scans are performed passively (detect but do not damage) whereas others can be setup to attempt to exploit the vulnerability to verify its presence. These activities can additionally include attempts to exploit the users of the system, and assess the potential impact of an insider threat.
Cybersecurity Framework Compliance
In response to the growing cybersecurity threat, nearly all organizations (government and commercial) are required or strongly encouraged to implement an information security program to safeguard their information systems and the resident data . Quanterion specializes in cyber compliance services for both government and industry, providing expertise related to the following information security frameworks and requirements. Common examples include: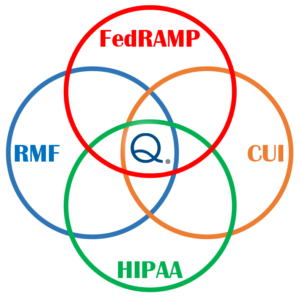 National Institute of Standards and Technology (NIST) Risk Management Framework (RMF)

For Federal organizations and DoD agencies

Federal Risk and Authorization Management Program (FedRAMP)

For Cloud Service Providers (CSPs) and government customers utilizing cloud services

Controlled Unclassified Information (CUI)

For public and private organizations handling government data

Health Insurance Portability and Accountability Act (HIPAA)

For healthcare providers, large and small, and covered entities (associates, subcontractors, etc.)
Let our team handle all of your compliance needs, from the technical control implementations to the security plans and policies that govern the use of the systems. We can additionally train employees on appropriate use practices and indicators of suspicious/malicious activity.
Product Offerings
Sensitive Data Discovery
Leveraging Quanterion's proprietary discovery tool, your network file shares and even personal devices can be scanned to determine where sensitive information (e.g., PII, PHI, financial and/or proprietary information, account passwords, etc.) has been improperly stored. The tool can scan nearly any file (e.g., PDF, PST, JPEG, Microsoft Office, etc.) to identify sensitive information and its location within the network. The tool is customizable both to different sectors of industry (e.g., finance, healthcare, etc.) and to individual organizations, for proprietary information, human resources records and a variety of other data concerns.
Email Plugin
Prevent leaks before they occur with Quanterion's email plugin, which integrates directly with each user's Microsoft Outlook application. The plugin prevents employees from sending an email when the message and/or its attachment include information determined to be sensitive. It additionally warns employees when a received message is believed to contain sensitive information to prevent further spread within the organization. Once installed, it works seamlessly with Outlook while reviewing message contents in the background without the user's input.
Contact us to get started today.