Today is the seventh annual Professional Engineers Day!
This annual awareness event recognizes licensed professional engineers, celebrates the contributions professional engineers make every day, and highlights what is involved in working as a professional engineer.
See below for engineering training and other resources.
Engineering Resources
Fall 2022 Reliability Engineering Open Training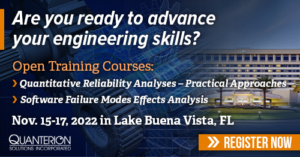 Whether you're an engineering student, a professional interested in advancing your engineering skills, or an engineering manager, consider registering for reliability engineering open training to be hosted Nov. 15-17 in Lake Buena Vista, FL. Choose between two course options – Quantitative Reliability Analyses – Practical Approaches and Software Failure Modes Effects Analysis.
Register today!
Learn more: www.quanterion.com/winter-2022-open-training
New Electronic Derating Resource to Improve System Reliability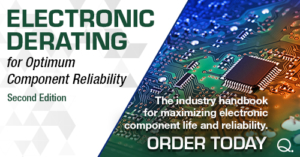 Quanterion Solutions has released an updated reliability engineering resource titled "Electronic Derating for Optimum Component Reliability: Second Edition."
What is Electronic Derating?
Electronic parts derating is limiting thermal, electrical and/or mechanical stresses on components to levels below the manufacturer's ratings to improve system reliability when applied to all components in a system. Every electronic component experiences physical limits, such as failing or becoming damaged at a certain voltage. However, derating guidelines included in this publication recommend appropriate levels of stress that the included electronic components can withstand and still operate at maximum capacity.
Need assistance with electronic or nonelectronic derating? Let our experienced engineers walk you through your options and perform an analysis. Email us at qinfo@quanterion.com or learn more about our reliability consulting.
Licensure Resources and Glossary
View the following licensure resources by the National Professional Society of Engineers (NSPE). This extensive list includes licensure exam review and preparation courses, list of state licensing boards to contact for licensure requirements and exam details, frequently asked questions about licensure, and other resources.
Interested to learn more about the many engineering disciplines? View this glossary by NSPE.
View Quanterion Solutions' catalog of reliability engineering training, publications, and tools.
Follow Quanterion on social media to access engineering information, resources, and more.