Is Asset Management For You?
What is Asset Management?
Asset Management is being called by many the "final frontier" of achieving major gains in operating effectiveness, corporate profitability and shareholder value. It has been reported that North American industry could recover $200M to $500M annually through improved physical Asset Management. To demonstrate the critical nature of managing assets the Department of Defense reportedly spends $40 billion annually to maintain physical assets and it's been estimated by the Department of Commerce that 40% of production revenues areallocated to maintenance. Regardless whether it's called Operating Equipment Asset Management (OEAM),Enterprise Asset Management (EAM),Plant Asset Management (PAM),Computerized Asset Management (CAM), or another acronym, the concept is the same: track your assets and keep them operating effectively to increase the organization's bottom line. With some authors claiming that as much as 60% of maintenance costs are unnecessary and avoidable, it's easy to understand the current high level of interest.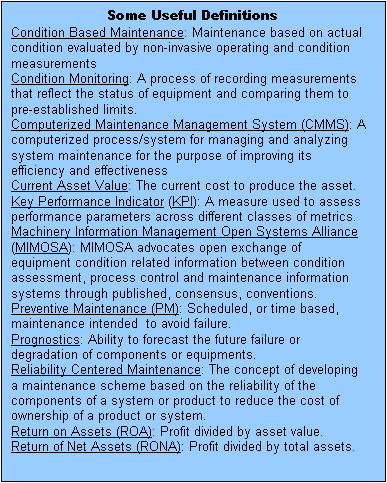 Operating Equipment Asset Management (OEAM)
For this introduction, we've chosen to use the term OEAM. Operating Equipment Asset Management (OEAM) is a strategic, fully integrated, comprehensive process and culture directed at gaining greatest lifetime utilization and effectiveness from production and operating equipment assets. OEAM combines such concepts and initiatives as Total Productive Maintenance (TPM), Reliability Centered Maintenance (RCM), and Preventive and Condition Based Maintenance (PM andCBM). It employs such Key Performance Indicators (KPIs) as Return on Net Assets (RONA) and Return on Capital Employed (ROCE), overall Equipment Effectiveness (OEE), Production Yield, Mean-Time-Between-Failure (MTBF), etc., and requires a "profit center" way of thinking as opposed to a "cost center" way. Increase the utilization of the organization's assets and watch the Return on Net Assets rise. The effective use of assets requires that availability, yield, quality, and cost each be addressed in creating predictable capacity. OEAM optimizes the effectiveness of production equipment and processes to obtain the greatest return.
Interest in Asset Management and optimized maintenance was not always the case. Up through World War II (some say through the 1950s) products and production equipment failures were expected and tolerated without much concern; most hardware was over-designed, so fixing it when it broke was the approach used. The second generation of maintenance practice through the 1970s followed with the advent of Preventive Maintenance where scheduled tasks and overhauls were the trend. The third generation introduced Reliability Centered Maintenance (RCM), recognizing that maintenance tasks should be based on the reliability characteristics of the equipment. In 1978, the famous Nowlan and Heap report "Reliability Centered Maintenance" documented the RCM process being used in civil aviation for others to take advantage of. Since then, Moubray has authored several texts on the subject. The third Condition Based Maintenance phase is being expanded into a Proactive Maintenance fourth phase where activities are introduced that are intended to prevent problems and optimize reliability.
Asset Management includes an optimized maintenance management process. Even municipalities are getting involved. Government entities are undergoing a tremendous change in the way they go about their financial management with the new GASB-34requirements. GASB stands for the Government Accounting Standards Board and requirement 34's purpose is to make better information on the cost and condition of municipal capital assets available to citizens and Government officials. The deadlines for compliance with the requirement are based on the total revenue of the municipalities and range from June of 2002 to June of 2004. Compliance with this requirement is a driving factor in many municipalities seeking Asset Management solutions to operate more effectively.
Reliability and Maintenance
Increased reliability and improved maintenance are key tenets of OEAM. Series reliability is a basic characteristic of a design that can't typically be increased after the fact by management or maintenance practices. The reliability is a function of such factors as the parts used, the stress levels imposed and the fault tolerance approach. Operation and maintenance practices can degrade the "designed in" level of reliability by introducing defects, which eventually become failures.
Reducing the need for maintenance and making the maintenance process more effective make a lot of sense. Effective use of Condition Based Monitoring, prognostics, and Reliability Centered Maintenance are key ingredients. Over the last 40 years maintenance practices have evolved from fixing items when they break to preventive inspections/maintenance at scheduled intervals, and then to Condition Based Maintenance and even Proactive Maintenance. All of these strategies still have their place. What's the cost of operating to failure? Is it just downtime, or are there catastrophic secondary effects, or even safety issues. When PM is performed, are defects introduced that wouldn't be there otherwise and are there good parts that are replaced unnecessarily? Some say that 30 to 50% of PM expenditures are wasted. Condition Based Maintenance shifts the timing of maintenance to the condition of the equipment rather than the time interval of operation.
Typically, CBM includes various types of non-invasive condition measurement followed by a comparison of the measurement to some form of standard, as a decision basis for performing maintenance. Vibration and oil analysis are two popular approaches. Important to any asset management approach is the effective use of information. Leading the way in advocating an open systems approach to tools and systems that address asset and maintenance management is the Machinery Information Management Open Systems Alliance (MIMOSA).
The CMMS Class of Tools
The above discussion demonstrates the value of Asset Management. One class of tools used in effective Asset Management is Computerized Maintenance Management Systems (CMMS). Such tools organize maintenance activities and provides the necessary information to identify and resolve problems. All different types of CMMS systems are on the market with varying capabilities and prices. Often the tools are oriented to a specific industry segment, such as government, educational institutions, the power industry, or the chemical industry. Typical CMMS functions include: asset register (including price, depreciation rates, registrations, etc.), work order initiation and approval, scheduled maintenance, priority tracking of actions, automatic purchase order generation/tracking, inventory management, scheduling of labor and equipment, condition monitoring standards, and failure and root cause determinations. Information is usually analyzed, graphed and is exportable to other tools.
This intentionally brief article is intended to be introductory in nature to provoke reader interest in the value of processes for Asset Management. At the time it was drafted, an excellent reference "Operating Equipment Asset Management – Your 21st Century Competitive Necessity" published by the Applied Research Laboratory of Penn State University, was available for free download from the Best Manufacturing Processes Center of Excellence (BMPCOE) at the University of Maryland. Unfortunately, it is no longer available there, with plans for updating it uncertain.
The following links to Asset Management resources are available to provide further information on topics mentioned in this article..
Maintenance Resources.com